By Steven Capwell and Laini Abraham
Photos by Laini Abraham
LLPG: Why do you live in the Lehigh Valley?
MA: There is a very simple answer: I had no interest throughout my life to live anywhere else. Throughout my professional career, I had some pressure to move to the West Coast because that was where most of the teams that I drove for were based. I resisted that idea. Not that I would spend any time in the shop. There was a convenience factor in staying here because at one point in my career I was eyeing racing in Europe and the logistics of traveling from here made a lot of sense.
There were many, many reasons for staying here. The bulk of the family was here. I raised a family at a relatively young age, starting when I was 21, and my wife's family was here. Early in my career, I became one of the first drivers to buy my own airplane and I could get most anywhere with relative ease and get home.
There's another reason. Back in 1968, I came upon a beautiful piece of land about seventy five miles from here in the Lake Wallenpaupack area [in the Poconos]. It had about 630 acres, a cabin, and a lake. It's been our resort spot and I couldn't duplicate it anywhere.
So I have everything, and I love the Lehigh Valley. I love the fact that we are close to the cities and yet still away from them. This is a beautiful area to live in. I don't know what else I would want.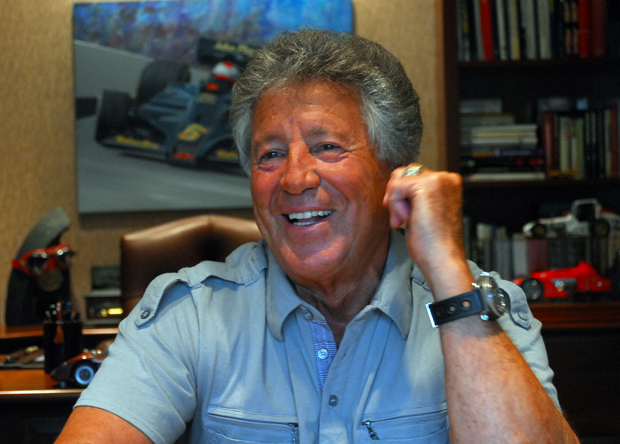 LLPG: Your first time at the Speedway, you were a spectator, right?
MA: Yes, 1958, three years after we came to the States, and immediately it was quite clear that my brother Aldo and I already had an interest in the sport. My second cousin's husband took us to Indy and I was very curious about it. We already had a plan in our hearts to start building a car that we intended to race in 1961 when we both turned 21. It was illegal to race professionally under the age of 21. It was great to see Indy and come home and work on the car. The car was ready way in advance and was ready by late in 1958. We figured we gotta start now and not wait three years. We had local sponsorship and hung out at the local Sunoco station. It was suggested that we could change our birth date and make a license. It was not a sinister purpose. We were very ambitious. I just didn't want to reach age 21 and have to be 23, I wanted to be 21.
The next time I was in Indy was 1964. I was already racing in the Midwest, with the big boys. I already had a ride in the series. My chief mechanic, who at the time was a combination of chief engineer and team manager, was Clint Brawner—he already had Eddie Sachs and Jimmy Bryant drive cars for him. He said we will start right after Langhorne, a dangerous track in Pennsylvania where one of his drivers had gotten killed. I went to Indy in '64 because I was driving sprint cars in the midwest against guys like Foyt and McCluskey. I was tempted to drive.
[nggallery id=96]
Mickey Thompson had two very slick cars. I was friends with Bobby Unser, had a plane and we would fly to races together. I was in his garage. He was running for Granatelli at the time and Mickey Thompson was in the next garage. Granatelli says "Hey Mickey, ya gotta give The Wop a ride!" So Mickey says, "Come out first thing tomorrow morning and we will get you fitted out in the car." Well, I thought about it. Clint Brawner said, "You're not ready," and he's a very experienced and knowledgeable man. I already had a ride for 1965 with one of the top three teams. I didn't sleep all that night and then purposely slept until noon and never showed up. It was one of the best moves I ever made. I apologized to Mickey and said that while it pained me to turn down the ride,  I would stay with Dean Van Lines and Clint Brawner. The only advice of Brawner's that I didn't follow was that I drove at Langhorne that year and I finished ahead of the Dean Van Lines car driven by somebody else. That was my debut in USAC champ cars.
But 1965 was my official rookie season. I finished third at Indy and won "Rookie of the Year" and I went on to be USAC National Champion. I was the youngest to do so. I was 25.
LLPG: What stands out in your memory about your rookie year at Indy?
MA: As a rookie you had to go through a test that was much more insidious than what they require today. My car was not ready the whole first week of practice, and the pressure was building. The last day you could take your rookie test was the Wednesday before the first weekend of qualifying. I took it that day and I went through the two days' worth of phases in one day. I was hoping that I was smooth. I had never sat in the car until that day, and it was the first time I'd ever driven a rear engine car ( Until that time I was driving a roadster.) I was confident and the car really felt right; it felt good. I felt very much in my zone in the car. I went right through the test and then all of the sudden, I was free to go as fast as I wanted to.
I had two days to practice before qualifying. Everybody wanted me to take my time and qualify on the second weekend because it was a new car and it was my first time at the Speedway. I had other ideas. As soon as I finished the test, there was an hour or so left of practice for the day.  I said I'd like to go out and get a feel for the speed. I ended up with the third quickest time for the month. I figured, well, we have a shot at this thing and doing some good. Thursday and Friday I was in the top five, so when we qualified I went out and set a new track record. Jim Clark, AJ Foyt, and Dan Gurney ended up going faster than me, so I started fourth. That was great. There is nothing like having all eyes looking upon you and having the confidence to do well. I went on to win one race that year. It was on a road course, which I really love. In 1966, I showed up as champion and sat on pole for the next two years.
LLPG: You have experienced a lot of changes to the sport throughout your career, haven't you?
MA: Change is part of life and all professional sports evolve. Our sport contains so many moving parts, not like the stick and ball sports where nothing really changes equipment-wise. In the 1960s, it seemed as if technology was changing by the hour. We were in the infancy of real development. And I loved that part— loved it! It was so stimulating for me as a driver to always search for something new. It never stopped. Driving for Colin Chapman was fun because he was always at the cutting edge of innovation. He had a very fertile mind.
For me, it was constant development. I was one of the top test drivers for Firestone almost immediately because they liked the fresh input. They had Roger Ward and Parnelli Jones, the established drivers.  I was getting to do a lot of testing; a lot of miles under my belt which really helped me hone my skills. There is nothing like miles, nothing. No substitute for experience. It really helped me learn the dynamics of the car and all the things that concern you about going fast. You just wanted progress. Progress here, progress there. You get better grip on the tires and then you need a stiffer chassis, or you need to work on the aerodynamics. All of that was really golden for me because I was pretty good at setting up chassis and developing certain aspects of a car and that continued through my entire career; right up to '94 it was continuous progress, each year getting a new car. Right now, in IRL [Indy Racy Leauge] they are driving a car that is eight years old, with only minor changes. Me, it was a new car every year— a new baby. It might not have been the prettiest baby— it didn't work and it pooped all over you, but you were still out there looking and waiting. I was like an expecting father. And I loved it!
You know, in 1985 we were the first team I know of to instrument the car with computers. It wasn't allowed to be used in the car during the race, but we used it in testing. We tested a lot with Ford and I loved it because it was another tool. The computer age raised everything to the next dimension. From decade to decade, the changes have been incredible. You can see the changes in speeds, and all of that means that the equipment is better. The drivers don't change. Champion drivers could have been champions 40 or 50 years ago. And vice versa.
Part II of this interview will run tomorrow. In the mean time, please check out these other LLPG posts published this month in honor of the 100th Anniversary of the Indianapolis 500 and the tradition of racing in the Lehigh Valley.
One Lehigh Valley Family's 40+ Year Indy 500 Tradition