Sogo
237 Northampton St., – Asian fusion
The food here is inexpensive but doesn't skip on quality. Popular rolls incorporate spicy and fruity influences. If you don't like your fish raw, there's still something for you. Salads are a stand-out: the house salad features a delicious ginger dressing and the avocado salad is delightful. Eat at the sushi bar and watch the chefs collaborate. Japanese drafts are available, as are signature sake and plum wine cocktails.
Vintage
100 Clubhouse Dr. – Continental
Set on a mountain hilltop, overlooking the rolling hills of the Morgan Hill golf course, the view from the patio is perhaps the best in the Valley. Enjoy the 9 & Dine Tuesday through Thursday. A fixed price includes nine holes of golf, entrée, and choice of salad or dessert. Vintage features a complete Sunday brunch buffet. Sourced locally: Apgar Farms apple cider, infused in a pork entrée and a warm winter cocktail.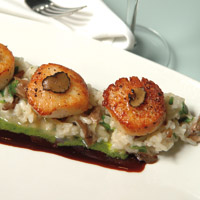 Ocean
235 Ferry St. – Contemporary
American Enjoy the tapas and wine menus in a hip atmosphere where the kitchen stays open late to accommodate all schedules. Choose from creative options such as lobster mac-and-cheese and sweet potato duck breast. Ocean features wine/food pairings once a month and is now serving lunch!
Pearly Baker's
11 Centre Square – American
There are three different tales regarding the namesake; ask your server to see which one you're privy to. Standouts include tapas and great burgers. The tap room features a marble bar and a number of drafts; the dining room features an elaborate Czech chandelier. This year will mark the 14th annual Chili Cook-off, always on Superbowl Sunday. 20 area restaurants display their best interpretation of the basic chili and are judged by a democratic patron vote and a panel of local celebrities. Door proceeds are donated to a local charity. Sourced locally: produce, organic duck, farm-raised chicken.
River Grille
243 Northampton St. – Contemporary American
Dine amid New York City ambience featuring high ceilings and an open kitchen and an international staff. Whether you enjoy tuna tartare or braised short ribs, River Grille is known for gourmet food, spotless presentation, and top-notch service. Features include an extensive martini list, and house-made desserts. Sourced locally: produce, seafood, meat occasionally for special pairing menus.
Sette Luna
219 Ferry St. – Italian
This popular eatery turns out house-made pastas and wood-fired pizzas in a warm, intimate setting. Warm ambience features an open kitchen and a grotto-style bar. Menu options include sautéed calamari, traditional and specialty pizzas served European style. Check out the Sunday jazz brunch and half-priced wine bottles on Mondays. The beautifully appointed wine cellar is available for private reservation.
Green Harvest Food Emporium
140B Northampton St. – Eco-Gourmet
Green Harvest is a gourmet deli specializing in house-made soups, wraps, and sandwiches. Try the mac-and-cheese, or the French dip—it's made with prime rib. In a rush? Head to the choose and cruise area. Green Harvest features an assortment of vegan friendly options, organic items and fresh baked goods daily. Located on the ground level of the former Hotel Easton, now the Grand Eastonian Suites Hotel. Sourced locally: all produce, vegetables.
Marblehead Grille
4101 William Penn Hwy. – Seafood
Venture slightly west for coastal seafood. This is the only place you'll be seated with a manual, titled How to Eat a Lobster. Reminiscent of coastal new England, the menu boasts offerings from both surf and turf. Order from the raw bar—priced per clam, oyster or shrimp. Come by for the early week special on 1lb. lobster with two sides.
Mex Tex Trio
42 South Third St. – Tex Mex
All of the dishes here are made from scratch. The extensive menu includes a wide variety of authentic Mexican entrees. It should be noted that they offer no less than eight salsas. If you're brave, tell your server to bring the heat. Try the Mexican Diablo ice cream, made locally. Opened in 2008.
Porters' Pub
700 Northampton St. – American
Enjoy a hearty sandwich and a pint in this cozy 1850's style English pub. You can now breathe easy, the pub is now smoke-free! Servers are trained in food/beer pairings. Sign up for the mug club; enjoy all 60 bottled beers on the list and earn your own engraved pewter mug. Once a month, wear a kilt for a free pint. They also do a tasty, cooked-to-order Sunday brunch.
Colonial Pizza & Spaghetti House
136 Spring Garden St. – Italian
The longest operating Lehigh Valley pizzeria, The Colonial has been completely renovated. Enjoy the relaxed atmosphere: dining room upstairs, pub downstairs. The gourmet pizza pies are served upside down (cheese first, then sauce) and are a tradition for Eastonians. Try the antipasto—it has pickles! Come early in the week for all-you-can-eat pasta specials. Manicotti, lasagna, and meatballs made in-house.
Terry's Tavern
200 South Delaware Dr. – Italian
The magic is in the kitchen where all dishes are lovingly made from scratch—including farm-fresh veal, house-made pastas, and an original pizza recipe. You'll feel at home when you walk in; it's a near-exclusive family business. Athanassios manages the kitchen, wife Marine runs the front of the house, and their cheerful daughter waits tables. Terry's has long maintained the tradition of the 1953 menu. Serving dinner four nights a week. Sourced locally: produce, veal, pasta.
The next time you think you need to travel for a good meal, save the travel expense and Eat in Easton!