By Kerri Jordan
Finding that favorite pair of jeans that fits great is hard to come by. Enter the Denim Project, which alleviates that hassle because it is like walking to denim heaven— the shop sells a pair for every body type.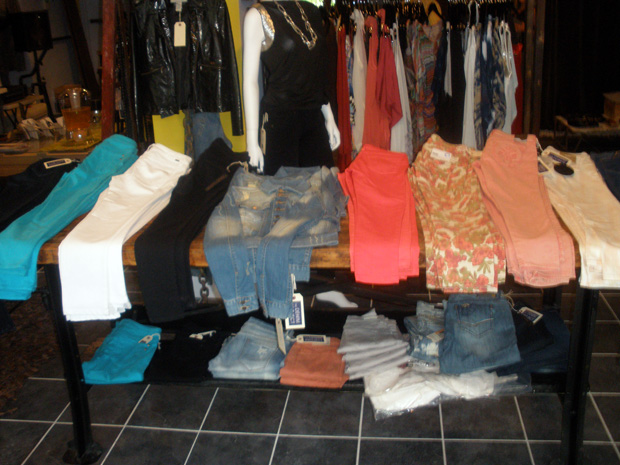 The rustic-feeling store, located on Northampton Street between Suddenly Samantha's and Mercantile Home, was opened two months ago by Sandy Dimperio and Richard Lepowdsky.
"We come to Easton all the time and were surprised there wasn't a lot of retail.  We love denim and figured we'd take a chance with it," Dimperio, said.
Dimperio explained that because this is their first retail endeavor, they learned a lot before they even opened by working with designer Bibi Monnahan, who designed the interior.  "We explained our vision to Monnahan, and she worked very hard to lay it out. The neighboring retailers were also very helpful," Dimperio said. Furniture came from Salvage Goods, Silk Mill, Flemington and Lambertville to fit the urban feel of the place.
"We were both in the financial business, and dined in Easton a lot and thought there isn't enough retail shops. Sandy's family loves denim, and when a space opened up we thought, why not," Lepowdsky, said.
The Denim Project only carries products that customers can't find anywhere else in the United States, except for Los Angeles. About 90 percent of the items are made in the U.S., explained Lepowdsky.  An outstanding 800 pairs of jeans are available for purchase from brands such as AG, Raleigh Denim, Raven, Genetic, Siwy, Blank N.Y.C., Commune, Colt of Individual, Page Premium and D.C. 1961.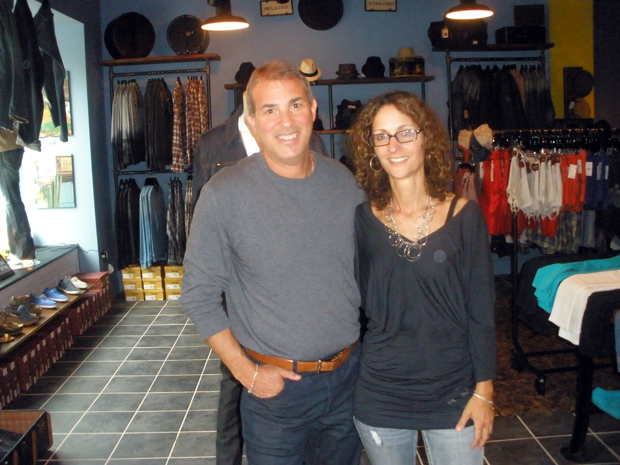 Each pair of pants is custom made, and are woven with selvedge denim, which is more durable.  This material doesn't fray and is produced with environmentally friendly starches and dyes that reduce the carbon footprint, Lepowdsky, said. The sturdy slacks range from $65.00 to $285.00, embellished tops range from $20 to $150 and scarves and accessories range from $20.00 to $50.00. Raleigh Denim is the top of the line jean to purchase at $285.00. They are hand made, one by one. The Blank N.Y.C. jeans are still great and are more affordable at $65.00.
"We sell clothes that last carrying sizes from 0 to 16, and when you try them on you will notice the difference from basic retail stores such as the Gap," Lepowdsky said. "The big thing in this business is fitting.  You have to have everything for everyone, and know how to fit them."
Every brand fits differently, and the Denim Projects carries something for every body type.  For example, a curvy fit tends to be wider in the hips, narrow in the waist with a higher rise.  Being familiar with the designers and their fits makes it easier to help the customer in knowing what fit matches their body, Dimperio explained.
"Most people who come in to our store say that they love the jeans because they are comfortable enough to wear all day long," Dimperio, said.  "Other store brand jeans tend to become cumbersome throughout the day, causing people to change. Our brands do not stretch or get baggy. Our pants last longer and look better, which is why customers are willing to pay $100+ because of our quality products," she explained.
Downtown Easton has its share of restaurants, but arguably needs more retail options. "We wanted to be a place to draw people to Easton," Lepowdsky explained.  "People may think that it isn't that great, but there is a lot of stuff to do in this town." The Denim Project is now a part of that.
Kerri Jordan is a writer in Easton who loves to go shopping when she has extra money.
The Denim Project, 104 C. Northampton Street, Easton, PA; 610-253-1051;  http://thedenimproject-easton.com/