by Carrie Havranek
Ah, yes, spring is in the air. And in our ears, noses and throats, too. Nonetheless, things are starting to sprout out of the ground. Stock up on allergy meds, and check out these five cool places to look at flowers, both near and far.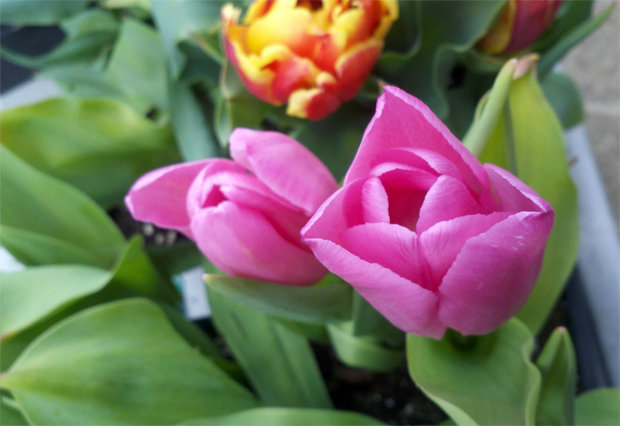 1. Allentown Rose Garden, Allentown. Ok, perhaps this isn't quite fair to include, because there are no roses in bloom yet, but there will be, soon. And when they unravel and emerge from their buds, at 28th Street and Parkway Boulevard, you can see and smell every last sweet bit. Cedar Creek Park, 28th and Parkway Boulevard.
2. Bowman's  Hill Wildflower Preserve, New Hope. Comprised of 134 acres of 800+ native species and plants, the preserve gives you plenty to look at; right now, it's bluebells. Guided wildflower walks take place every Tuesday-Sunday at 2pm and this Saturday, April 14, there's a guided bird walk from 8am-10am. Spring has only just begun. 1635 River Road, New Hope; 215-862-2924.
3. Garden Tour of Easton, Easton. This one's brought to  you by the College Hill Neighborhood Association and will take place May 12, from 7:30am-5pm. For more information about tickets and the route (which is to be designated soon), email gardentour@eastonchna.org.
4. Longwood Gardens, Kennett Square. It's not exactly around the corner, but this place is more than worth the drive. You could spend several days here and you would not likely see all the blooms there are to see. Right now spring's display of tulips, snapdragons, phlox, azaleas and columbines and roses (and more!), will run through about May 20. From this point on, it only becomes more beautiful, and the programming and special events (live music, anyone) give you reason to linger. 1001 Longwood Road; 610-388-1000.
5. Rodale Institute Tulip Festival, Kutztown. Last year, 25,000 organic bulbs were planted. This year, they're all in bloom. Go and be dazzled by the display, and take some of the more than 20 varieties of tulips home for yourself, too. Yes, this is a pick-your-own situation, for flowers. Sign me up. April 14, 10am-4pm. Rodale Institute Experimental Farm, 611 Siegfriedale Road, Kutztown; 610-683-1443.
Carrie Havranek is a writer in Easton who bought lovely Hudson Valley seeds from Mercantile Home last week and wants to plant them yesterday.