By Laini Abraham and Katie Vogel
1. Easton Heritage Day
Sunday from 11 am to 10 pm, Centre Square and Riverfront, Easton
Celebrate the little town of Easton's historical claim to fame at Easton Heritage Day.  As one of three towns where the Declaration of Independence was publicly read, Easton held great significance during our country's fight for freedom. Visit the historical buildings within the city, discover its past, and enjoy food, shopping, and entertainment throughout the day.  Later, end your night with a bang and watch the fireworks go off above the river.
2. First-Ever SmarTour of Easton – A Walking Tour of Historic Easton's Jewel Box
Launching Sunday but available to do anytime, Historic Easton starting at the Bachmann Publick House, Easton
Experience Easton's famous architecture in a whole new way, through a tour on your Smart Phone! Start at the Bachmann Publick House and walk through three of Easton's most historically significant blocks, and end up back at the Circle. Just pick up the info and scan the QR code at either the Heritage Day Booth in the Circle or the Main St. Initiative's booth. You'll be given a printed map and a copy of the latest edition of laini's little pocket guide to Easton, and it's free! This tour is a collaborative effort between Laini's Little Pocket Guides  –  www.littlepocketguide.com, Don Spencer   – www.valleybrandworks.com,  Local historian Richard F. Hope, – www.walkingeaston.com and Realtor Ellen Shaughnessy  – www.EastonIsHome.com. If you can't make it Sunday, you can do this any time. If you want a sneak peek, just scan the QR code in the image below.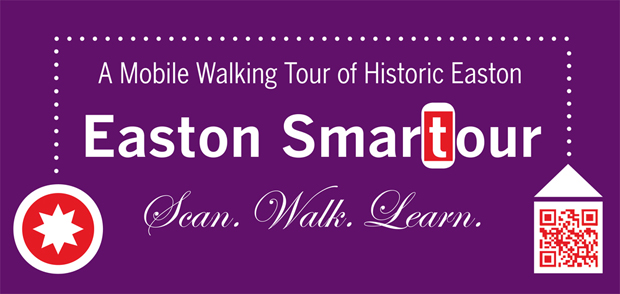 3. 2nd Annual Bethlehem Rooftop Beach Party
Friday from  5:30pm to 8:30pm, Roof of the North Street Parking Garage, 85 W. North St, Bethlehem
Want to go to the beach? How about going to the beach on a roof at the Bethlehem Rooftop Beach Party? For $10, 21 and older attendees get a free drink, food, and get to listen to music while hanging out beach-style in the heart of Bethlehem.  This is surely a unique event that is worth checking out.
4. Katie's Pick – The Red Elvises
Friday at 7:30pm, Levitt Pavilion SteelStacks, 789 E First St., Bethlehem
This high energy "rokenrol" group is always a good time. Originally from Russia, their band members include people from all over the world. Starting as street musicians, they were forced off the streets because they attracted so many people! With their one of kind sound these Lehigh Valley regulars are sure to put on a good show. If you didn't check it out last week, the Levitt Pavilion is a must-see, too!
5. The Bugler Show
Saturday from 7 pm to 11 pm, Nature Nurture Center, 516 Northampton Street, Easton
Experience Easton's artistic side at The Bugler Show, an evening filled with art, music and fashion.  The show will feature art that has been inspired by the Easton Bugler. The fashion show is sponsored by Loose Threads Boutique and word on the street (via Lauren Warner's Facebook wall 🙂 is MTV will be filming it! $5 donations will be accepted at the door to support the Easton Main Street Initiative.
6. Worthwhile Style: Show Your Compassion with an Evening of Fashion
Friday, 6pm to 9pm, The Banana Factory, 25 W Third St., Bethlehem
Support a good cause while getting in tune with your inner fashion sense at Worthwhile Style.  The show will be graced with the presence of Mrs. Pennsylvania United States 2011, Kate A. Mack, and Project Runway 7 contestant Pamela Ptak.  Munch on catered hors d'oeuvres, try your luck in the Chinese auction, and check the souvenirs from participating vendors while aiding the Valley Youth House Residential Living Program.
7. Civil War Road Show
Friday, Saturday, and Sunday from 12:30pm to 8:30pm, Pine Street (behind the Sigal Museum between South Third and South Fourth streets), Easton
Coinciding with Heritage Day weekend, the Civil War Road Show will be making a stop in Easton this weekend. Get a double-dose of history and also learn about Pennsylvania's role in the Civil War. With lots of hands-on exhibits and reenactments, this incredibly unique museum and traveling show are must-sees this weekend.
8. Open Space: Women Artists From Norway
Friday and Saturday, Zoellner Arts Center, Zoellner Main Gallery, 420 E. Packer Avenue, Bethlehem
This is the final weekend for the Open Space: Artists from Norway exhibit at Lehigh's Zoellner Center. This contemporary installation involves four renowned artists creating pieces with a focus on color interplay, and site specific indentity.
9. Allentown Art Mart
Opens Friday, store hours are 11 am to 7 pm Friday and Saturday, opening celebration next Friday, July 15th starting at 5 pm, Holiday Inn, 9th & Hamilton Sts., Allentown
From their Facebook page: "The Art Mart will be returning to the Downtown Holiday Inn at 9th and Hamilton Street on July 8th! We invite you to check out the fine art and hand made gifts created by people living right here in our community. Support your local artist and economy!" The Art Mart will continue throughout July. For more information, email allentown.artmart@gmail.com.