by Bevin Theodore
Easton's seen its fair share of waves of great retail, and we're in the midst of another revival. Little Pocket Guide talked to the owners of three businesses who opened up in the city this fall about what makes their stores different, and why they believe more shoppers are looking to ditch the mall and return to downtowns.
Easton Outdoor Company
Owner Adam Fairchild aimed to meld a professional and casual vibe when he opened Easton Outdoor Company.
The result is a warm, cozy store where customers can shop for outdoor gear, sink onto a plush couch or watch Betty—a 1-year-old Labrador-Beagle mix—run laps around the clothing racks.
Fairchild did most of the work on the 230 Northampton St. store himself, spending six weeks painting, installing flooring and lighting and building tables and racks, with some help from family and friends.
The store, which opened in October, boasts everything from winter coats to tents and sleeping bags to yoga apparel. One wall is lined with specialty running and trail shoes. Racks are filled with jackets to keep you warm whether you're shoveling your driveway or embarking on a three-day hike.
Fairchild, who has always been a fan of outdoor activities and who previously worked at The North Face's corporate headquarters in California, can steer each person toward the ideal product. That's a service you can't get from shopping online or visiting some of the larger retailers, he points out.
"There's not really a business like this anywhere in the Lehigh Valley," he said. "I think we have a nice little niche here."
That specialized customer service is what gives Easton Outdoor Company a boost over the bigger sporting goods stores. While Fairchild carries many of the same brands as his larger competitors, 95 percent of the products are ones that are not available at the chain stores because he offers different styles and colors.
A portion of his business is geared toward youth apparel, and he views that as a way to spread the message about the benefits of kids being active. "The bigger picture for me is not only having this store and making this business successful, but how do I reach kids and get them outside again," he said.
Fairchild, who is originally from Easton, has come full circle and is excited to be part of the Downtown revitalization. He thinks there has been renewed interest in shopping in downtown areas rather than malls or lifestyle centers.
"I think what they're looking for in downtown Easton are higher-quality retail stores. They don't want it to be just another dollar store," he said. "I think this store fits in perfectly with where they want to be."
iMiJ
Wandering around iMiJ, it is evident owners Mike and Jamie Cabreza have an eye for selecting art that is both functional and beautiful.
The store at 121 to 123 N. Third St. was originally going to be a studio, but when the Cabrezas saw they had a storefront to work with, they decided to offer artful objects in addition to their gallery and portrait studio space. While a website is in the works, the Cabrezas encourage customers to actually stop into their store to get an idea of the eclectic mix they offer.
"Every day we come in with something new," Mike Cabreza said, adding that it's been fascinating to explore the local art scene.
Leading up to the holidays, the Cabrezas have been busy with family photo shoots. But iMiJ is also the place to find a wide range of handmade items from local artists. Photo cubes, which Mike Cabreza describes as "a tactile photographic experience" share shelf space with unframed artwork and note cards.
A picture of the Bugler in Centre Square and a drawing of scenes from Antoine de Saint- Exupery's "The Little Prince" hang above a sofa draped with a handmade afghan and pillows. Photographs, children's clothing and books, jewelry and gift items provide something unusual for every shopper.
Even some of the shelves are art, as Cabreza demonstrates by folding an end table into a cube.
"A lot of stuff has actually come from our house to our store," he said. "People respond well to it."
In the winter, the Cabrezas, who met in photography school, plan to shift their focus to gallery presentations to highlight local artists.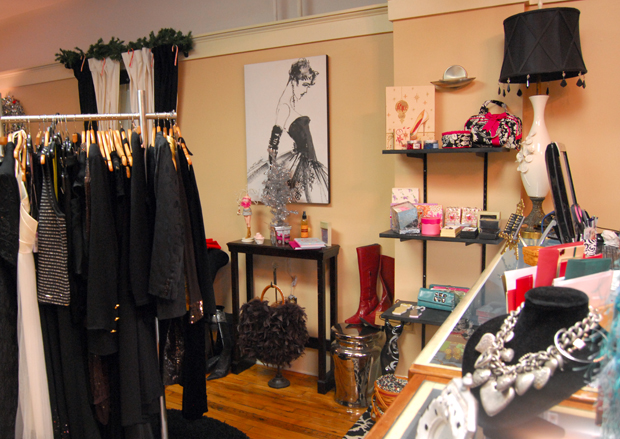 The sluggish economy is causing many people to curtail shopping expeditions.
But Saundra Henderson and Tammy Wells, owners of Twice Chic Boutique at 129 N. Third St., have found a way to create a fashionable shopping experience for women on a budget with their upscale consignment store.
The business owners moved their store Downtown in September, only nine months after opening on College Hill, because they had already run out of space. Since that move, they've seen their customer base double and are wondering if they'll eventually need to open a second location.
In addition to providing a bargain for customers, Henderson, who has background in marketing, said a consignment store is a less risky proposition for the owners, who have lower overhead and the option to return items that don't sell.
Twice Chic has nearly 300 consignors and accepts new ones every Wednesday. Each consignor pays a $20 fee to start an account and may bring up to 10 items each week. Items remain at the store for 60 days, but Henderson said 35 percent of consignors choose to donate items that don't sell, to benefit the Children's Home of Easton.
Sales usually yield a 50-50 split in proceeds, but for pricier items, Twice Chic will take a lower cut to ensure it's worthwhile for the customer to do business with them.
They offer a wide range of clothing, shoes, coats and accessories, with extra formalwear on the racks for holidays and prom season. Henderson stresses that this is not a thrift store, and they accept only new or like-new items that are suitable for resale.
"Unless it's a vintage piece, we try to keep it to within the past two to three years," she said.
The boutique is also reaching out to the community through Girls Night Out events, where groups can rent the store after hours, socialize and take advantage of special discounts. Henderson is thrilled to be a part of the thriving downtown.
"We get a lot of people coming in that are considering opening up a business here, and we try to encourage it," Henderson said. "For me, it's such good news."
Easton Outdoor Company, 230 Northampton Street, 610-829-1000; Imij Shop, 121-123 North Third Street, Easton, 610-247-5868; Twice Chic Boutique, 129 North Third Street, Easton, 610-297-4242.
Bevin Theodore is a writer and editor who enjoys exploring new treasures around the Lehigh Valley. She lives in Lower Macungie Township.
Other posts you should check out: