by Lenora Dannelke
In my experience, lunch is driven as much by agenda as by appetite. Whether the focus is social, business or an amenable confluence of both, The Mint gastropub scores high marks as an optimal environment for eating-with-intent—and enjoying every morsel of the experience.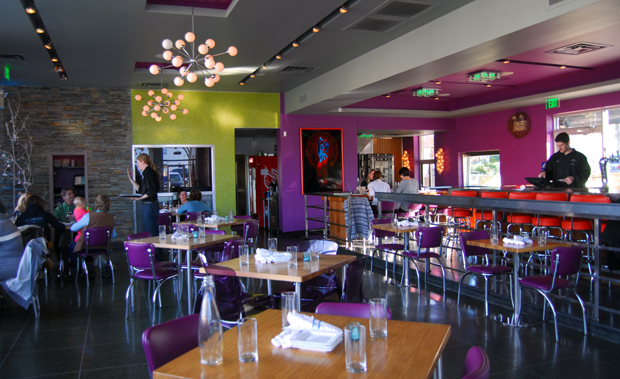 First of all, there's the location, location, location. Situated close (but not too close) to Bethlehem's bustling downtown, this bank-turned-restaurant offers the convenience of plentiful parking. Next, the vibrant décor, which pays playful tribute to the building's original purpose without crossing the line into themed kitsch, sets an upbeat mood for a mid-day meal. And this is one place where you should definitely heed your mom's advice and wash your hands before eating: The restroom area, tucked behind an unmarked door that blends into the wall, is a visual treat. Bright pop art-style currency prints adorn the hallway, and the ladies' room counts among the most stylish in the Lehigh Valley. (Same for the men's room, too. Yes, I peeked.)
Fully grounded in the kitchen, chef/owner Domenic "Mimmo" Lombardo started working at Stefano's, his family's popular Italian restaurant in Bethlehem, at age 11 before continuing a formal culinary training at Johnson and Wales University and the Italian Culinary Institute for Foreigners in Northern Italy. However, he broke with his gastronomic heritage when envisioning The Mint.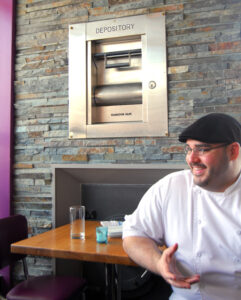 Lombardo's educational background included a stint as a student of architecture, and the former Bank of Pennsylvania building, constructed in 1955, offered a glorious mid-century Modern platform for serving contemporary comfort food—essentially familiar childhood favorites gussied up for adult tastes. Examples include butter-crumb topped truffled mac & cheese, with a lobster option, and "franks and beans" weekly specials that can translate into anything from smoked duck bratwurst and mashed white bean mash with cherry chipotle aioli to alder-smoked blueberry venison sausage with black-eyed peas and truffle mustard crème fraiche. Another retro-chic update is the Pork Belly "BLT" complemented by tomato confit and bacon aioli. You get the picture: Like a diner, but oh so much finer. And way more fun.
The adaptive reuse of the building included transforming the bank vault into a wine cellar, repurposing the drive-through teller portico as a patio that functions as a smoking lounge, and turning an office door into a communal table. Lombardo consulted designer Lisette Dell'Appa of First Impressions to execute his postmodern concept and give the place "a woman's touch." The punchy decor includes futuristic light fixtures, lime green and neutral stone-lined accent walls, orange bar stools, fifties-style chrome and grape-colored chairs in the dining room and the use of snake plants as living café curtains. "Shopping for something so over-the-top was a hoot," says Dell'Appa. "I love doing kids' fantasy rooms and this was like creating one for adults: A playroom with amazing food and beverages."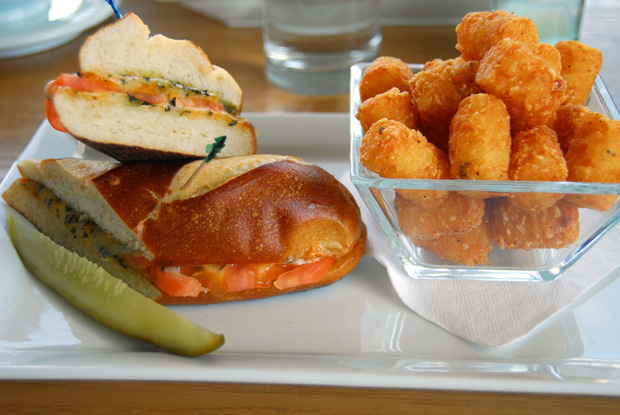 When my two friends and I were seated, we were presented with not only a food menu, but lists of the more than a dozen rotating tap and approximately 150 bottled beers that focus on American craft brews—and the selections are ever-growing. A concise wine list offers most varieties by the glass, and a culinary focus on cocktails puts an innovative spin on martinis and mixed drinks. Although we passed on spirited libations, the freshly brewed Desert Blossom iced tea and the hearty house-blend coffee, served in a wonderfully oversized cup, were excellent.
Although both the lunch and dinner menus, we learned, would be receiving a seasonal revision in early February, selections that included wasabi pea soup, pasta with a short rib "ragu," and substantial sandwiches, including a hefty Bank Burger, were completely appropriate to a chilly January day, and specials are featured daily. It was also refreshing to see vegetarian and vegan choices that did not seem like afterthoughts. Keep in mind when ordering that dishes can be customized via an insiders' lingo, such as requesting "heart-attack style," which puts fried egg and pork belly on a burger; "farm style," which adds a full array of meats to a dish; or "al funghi," which crowns your selection with mushrooms. Another one-of-kind feature at The Mint is a late evening "reverse happy hour" from 10 p.m. to midnight, offering discounted drinks and a menu of $7 items that changes weekly.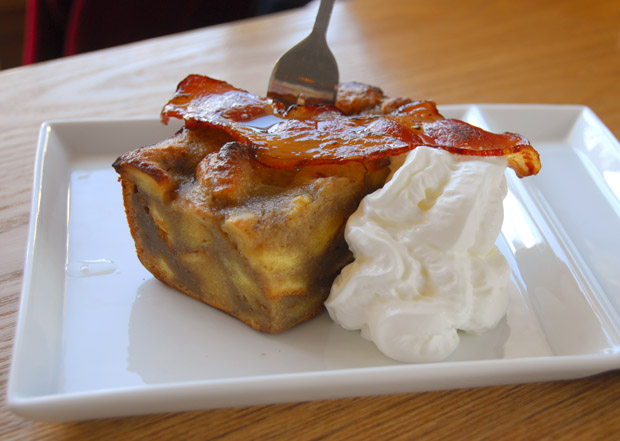 The "Mussels 'n' Frites" I ordered were soulful and satisfying, with the hand-cut fries, steamed mussels—tender and tasty, albeit petite—and warm, chubby "drunken" cherry tomatoes piled on top of a base of chipotle lobster bisque. My companions' selections included a top notch, no-filler crab cake sandwich served with super crispy crinkle-cut sweet potato fries and a bright lemon dipping sauce, and a grilled cheese sandwich on a pretzel roll oozing with three varieties of cheese, ripe tomato and a bowl piled with crunchy-on-the-outside/molten-in-the-inside potato tots. For dessert we shared the one item that would be carried over to the new menu: The Elvis Presley, a dense and decadent peanut butter and banana bread pudding that sports a thick-cut strip of candied bacon on top and a cloud of whipped cream on side. Even divided among three women, we were unable to finish off the generous serving.
Service throughout the meal was excellent. David, our server, was thoroughly attentive—and able to answer our questions about dishes and their preparation—without being intrusive. A combination gab fest and food quest in an aesthetically delightful setting is my ideal middle-of-the-day mini vacation.
The Mint Gastropub; 1223 West Broad Street, Bethlehem; 610-419-3810
Independent journalist Lenora Dannelke believes there's more to life than writing about food. There's also shopping, cooking and eating.
Other posts you should check out: