by Carrie Havranek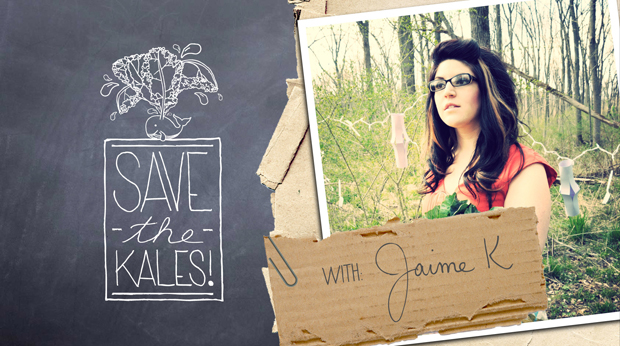 You may have heard this already, but maybe not: Jaime Karpovich of Save the Kales has her own television show. And she wants to show you a plant-based diet isn't something expensive, weird or goofy— it's healthy, easy, and delicious. If you do it carefully and smartly, you don't sacrifice flavor (you will gain it) and you most certainly won't sacrifice nutrition (you might even gain it.) But most importantly, perhaps, as Jaime K says at the end of the first episode, you're "making the world a kinder place, one recipe at at time."
The idea was spawned several months ago when Matt Lewis and Sarah Fulton of Post Sputnik Productions were approached by RCN to put together television programming based on their success with Lehigh Valley Mirror, short video segments highlighting businesses, restaurants and cool things around the Valley. They had worked with Jaime K to produce webisodes of Save the Kales, so when the time came to meet with RCN, Lewis says, "we brought up the idea of also doing Save the Kales! as a full 1/2 hour TV show. . . they loved it."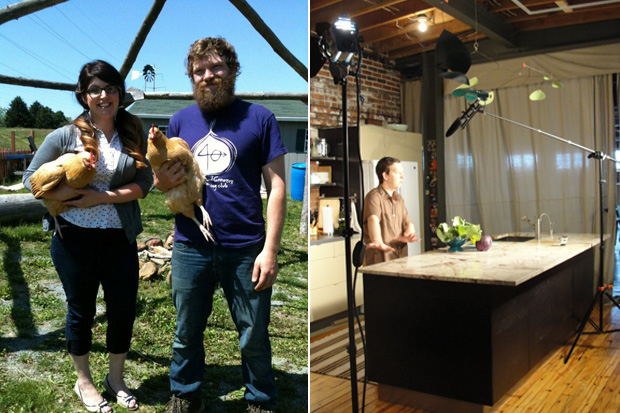 The show typically airs on the first Sunday night of the month on RCN4 at 9:30 pm (except for July, which will air July 8), and repeats exclusively on RCN for the first week. Don't have RCN? Never fear. A week later, the program is available online, on both Save the Kales and LV Mirror. Jaime K has linked to the first episode, which aired in May and finds her visiting Fresh Tofu, Inc., in Allentown. Yes. We have a tofu manufacturer here in the Lehigh Valley. Whodathunk? The remainder of the program consists of her making two dishes; the first is a dairy-free pizza with "ricotta" cheese (a.k.a. tofu pureed with fresh basil, garlic, lemon juice, and olive oil), and topped with zesty arugula. The second dish is her weekend breakfast staple, a tofu scramble with onions, peppers and mushrooms; a hefty dash of turmeric (which is a great anti-inflammatory agent) infuses the tofu with the yellowy hue of scrambled eggs. At the show's end, she invites her friend Johnny Gee over, a newly minted vegan who'd been missing eggs, to enjoy the tofu-based dishes. He approves.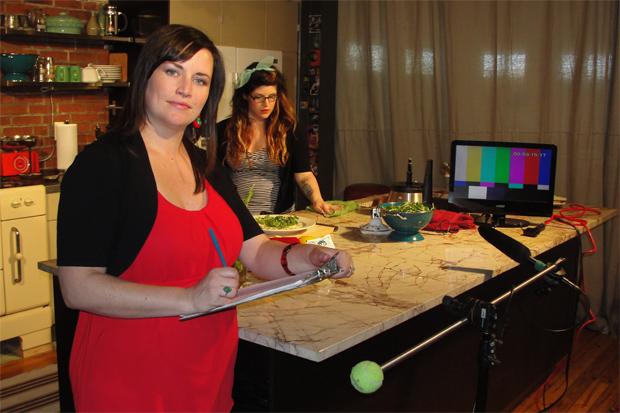 Although veganism certainly has not reached a tipping point—i.e., we do not have a nationally recognized person who's synonymous with vegan food and living just yet—people are curious. "We want to show that veganism can be a lifestyle and it can also be and option for non-vegans in their everyday meal cooking.  We wanted a show that would bring vegan cooking and awareness to the general public and alleviate any misconceptions of vegans being this fringe group that is very exclusive," says Lewis.
It's also not hard, as Jaime K makes the entire dish within the span of the program—you won't see her pull prepped ingredients out of an enormous refrigerator, courtesy of a fleet of kitchen assistants, like the big cooking shows have. This is real stuff in real time, and it it's not that unusual. In fact, many of us may eat vegan meals without even realizing it, especially if you eat a lot of traditional ethnic food—think about rice and beans, for example. As Jaime K herself says at the end of the first episode, "Anybody can do this, and it's going to be delicious. You're going to love it, and your friends are going to love it."
You can view episodes at LV Mirror or Save The Kales, or subscribe to the LV Mirror YouTube channel; the second episode, wherein Jaime K goes to visit NCC's Good Growers and then makes a dish with kale, was just posted. The third episode will air on Sunday July 8 at 9:30pm on RCN4,  digital 1004, and in Delaware County on RCN8 Digital 608. The show is repeated on Monday and Tuesday at 11;30am and the following Saturday at 6:30pm.
Carrie Havranek is a writer in Easton who is currently eating kale chips dusted with paprika and sea salt by the handful as she types this story—no kidding.
Save the Kales! header image designed and courtesy of Christian Weber Creatives.