Words and Photos by Carrie Havranek
Mushrooms. They come in all shapes and sizes and and varying degrees of earthiness. Sometimes the stems come long and spindly, like skinny legs. Some of them are all about the tops, so much so that most mistakenly discard the stems (poor portobellos). Some, like trumpet mushrooms, are beautiful because of the fan-like undersides. Rehydrated from the dried state, mushrooms such as porcinis transform into a woodsy stock for cooking. I love them dearly, but most of all, mushrooms fascinate me. My middle-European gypsy ancestors were foragers and I sense that some of that knowledge still existed in my DNA. (Perhaps it does. Who wants to teach me to forage for mushrooms?) How can something walk thisclose between deadly and delicious? See, they are fascinating, right?
I learned from Jesse Tobin, new mushroom farmer at the Easton Farmers' Market, Primorida Mushrooms, that freshly picked funghi will keep for several weeks (!) in the refrigerator in the brown paper bags (so retro and useful and earth-friendly) that they package them up in for you. I bought a half pound of silvery-grey oyster mushrooms and a half pound of cremini, but there were a couple of other varieties, including shitake and a fuzzy white type called Lion's Mane. The level of devotion to their naturally-grown mushrooms was evident in the careful way in which they were displayed, picked and packaged: the oysters were still clumped together and intact when I got home, like a little mushroom bouquet.
I threw this dish together on Sunday night with oyster mushrooms, asparagus, fresh thyme, organic butter, whatever pasta I had enough of, and finished it off with the juice and zest of one lemon and a healthy sprinkling of Pecorino Romano cheese. If someone were selling asparagus at the Farmers' Market this past weekend in Easton, I would have bought it for this dish. Instead, we've been getting ours from a colleague of my husband's who also happens to have tons of it growing on his home farm.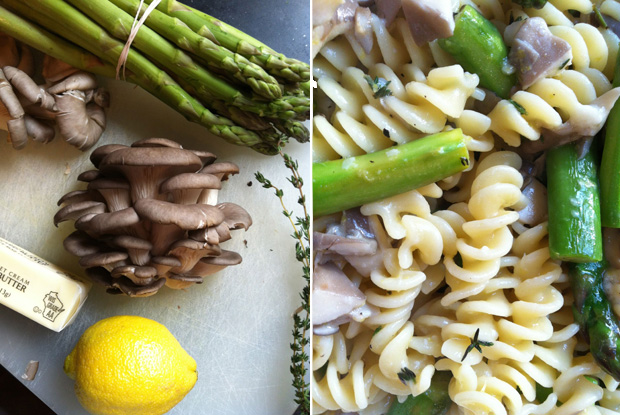 Mushroom-Asparagus Pasta
Ingredients
8 ounces oyster mushrooms, roughly chopped
1 lb (about one bunch) of asparagus, stalky ends trimmed, gently peeled, and cut into 2-3 inch dice.
8 ounces of short pasta (fusilli, penne, rigatoni, cavatappi will all do)
4 Tbsp. organic unsalted butter
1 Tbsp. fresh thyme
Juice and zest of one lemon
Salt and pepper to taste
Pecorino romano to taste
Directions
Boil the water for pasta and cook it like you normally would, reserving about 1/2 cup of liquid for your sauce.
While the water is boiling, carefully chop off the main stem of the mushrooms. This is kind of hard to explain but will make sense if you're using freshly picked mushrooms. Remove the white, thick parts of the stem that won't going to saute down well. (Again, this will make more sense when you see it.) Then slice them into a rough chop, remembering that mushrooms will shrink considerably when sauteed.
Heat 2 Tbsp. of butter over medium heat in a skillet. When the butter is bubbling, add the mushrooms and a couple of pinches of kosher salt, and a good grinding of black pepper. Toss in half of the thyme, which I don't even chop. Instead, I just run my thumb and index finger down the stem, holding the thyme over the pan, until the leaves slide off easily. Saute the mushrooms for 3-4 minutes, tops, until they've reduced in size and softened a bit but aren't soggy. Remove from pan; keep hot.
Add another 2 Tbsp. of butter to the pan, scraping any browned butter and thyme off the bottom. Toss in the asparagus, a couple pinches of kosher salt, and cook for 2-3 minutes over medium heat until it's bright green and still crispy. When the asparagus is about finished, add the mushrooms back in and stir to combine. Reduce heat to low.
At this point your pasta should be finished. Zest the lemon first, then slice and squeeze the juice right into the pan with mushrooms, thyme, butter and asparagus. Add the 1/2 cup of water, and stir it all up to combine. Keep in mind you're doing this over low heat, so some of this water is going to cook off, as it should.
Toss in as much cheese as you like, add another sprig of thyme leaves, adjust salt and pepper if necessary, and serve immediately.
This served a family of four—two adults and two hungry toddler boys—with no leftovers. You could easily double this recipe, although I might just double the mushrooms and pasta amounts to a pound and not the asparagus, but that's just me. And you've probably figured out that this is easy to veganize by swapping oil for butter and leaving out the cheese. Whether or not you sprinkle on nutritional yeast in place of cheese is up to you. And your pantry.
Carrie Havranek is a writer in Easton who is looking forward to a season of experimenting with mushrooms.