By Carrie Havranek
Life is loaded with restaurants and bars you see on a daily (or not so daily) basis, wonder aloud about, and then pass by. Life is also loaded with great restaurants whose bars you might typically overlook in favor of the dining room, but that are lovely and offer the full dining room menu but in a more low-key environment. Here are five of them, spanning the gamut from laid-back and reliable to slightly more fancy and gourmet.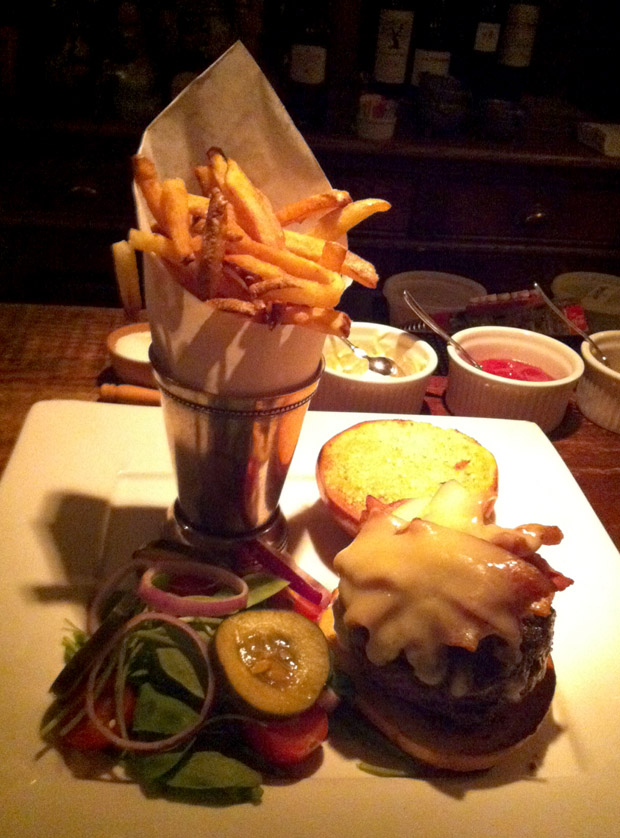 1. Bolete, Bethlehem. The dining room may put the word fine in "fine" dining, but the bar is cozy, dimly lit, and quieter, and you can order from the tavern menu or the full menu. Both are seasonal but the former is limited; you can be guaranteed the burger is on there, with your choice of cheese and the mushroom marmalade (add $2). The bar is first-come, first-served, but you can reserve some of the tavern tables. 1740 Seidersville Road, Bethlehem; 610-868-6505.
2.  The Farmhouse, Emmaus. This 19th-century farmhouse is well-known in the valley for its farm-to-table fare and legendary beer selection, but there's also the pub, for those who want to just hang out with one of its amazing vintage brews (Chimay from 1994, anyone?) and snack on its charcuterie plate. The Farmhouse's national reputation for its imbibing options continues: it was named one of the top 100 beer bars in the country by Draft magazine in 2011. 1449 Chestnut Street, Emmaus; 610-967-6225.
3. Riegelsville Inn, Riegelsville. There's little else better than sitting in front of the massive, open fireplace in the main dining room in the winter at this classic Pennsylvania stone inn along the Delaware. However, the pub comes a close second and has a fairly extensive menu of contemporary American standards—along with live music on Friday and Saturday nights. 10-12 Delaware Road, Riegelsville, 610-749-0100.
4. The Ship Inn, Milford. This one's across the river, but it's worth the trip to New Jersey's first brewpub. Serving British beers they brew onsite in the English style (open fermenters, unfiltered) and U.K. fare (Cornish pasty, fish and chips), the Ship Inn is situated on the Delaware. Sip your hand-pumped beer and contemplate the brewing process; the beer casks are visible to you, right behind the long bar. 61 Bridge Street, Milford, NJ; 908-995-0188.
5. Stemie's 1818 Tavern, Easton. Yes, we're talking about another Pennsylvania restaurant and bar in an old converted stone house of some sort—are you noticing a trend here? The bar, situated as the centerpiece of the dining room, shows you it's a priority here. It also makes maneuvering to your table a bit tricky, but that's part of the charm. A martini menu of 35 choices keeps you guessing, and the burgers come with waffle fries. This place is so old-school and neighborhoody, it does not have a web site. 2501 Seip Avenue, Easton; 610-258-0064.
Which one of these cool bars is your favorite? Which one would you like to try next?
Carrie Havranek is a writer in Easton who likes finding cool places to eat and drink, on or off the beaten path. (She also takes some killer photos with her iPhone. -Laini)