by Carrie Havranek
We're lucky here in the Lehigh Valley. We've got a lot of people who are dedicated to the connection to mind, body and spirit, whether that's massage, yoga, chiropractic, health food, supplements, or herbs. Here are five cool places for health and wellness—broadly speaking.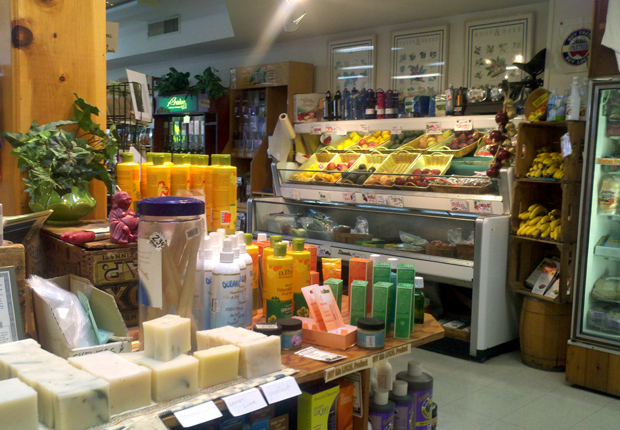 Once you're finished shopping for your weekly dose of healthy food, take a break at the onsite Cafe Santosha, which serves healthy, delicious food for every palate–carnivore to vegan, with items that are gluten free, too. Owned by nutritionist Diane Burg, Healthy Alternatives is in the most unassuming location–a strip mall of all places–but is anything but cookie cutter in its approach. Don't miss the soups.  7150 Hamilton Blvd., Trexlertown; 610-366-9866.
2. JBN Wellness Center, Bethlehem.
You might be surprised to find out there's a whole group of wellness businesses in the middle of an industrial park in Bethlehem, but there you have it. Just Be Natural Fitness and Nutrition Center is the flagship business there, but you'll also find Kula Heart Yoga, MultiSport Fitness, chiropractors Dr. Philip O'Brien and Christopher Amato, massage therapist Heidi Zimmerman, and reflexologist and health coach Stephanie M. Shelly, among others. People refer to this as the "JBN Building" in Lehigh Valley Industrial Park V, off 512.
One of the oldest health food stores in the Valley if not the oldest, Nature's Way Market has been serving people for 37 years with its helpful service, extensive selection of herbs, natural supplements, homeopathic remedies, and vitamins. It's also a full-stop grocery store, with local, fresh, seasonal produce, local honey and dairy and meats, lots of options for vegetarians, and an enviable bulk section that includes fresh peanut butter. Free mini-consultations are available with the on-staff herbalist David Harder on Thursdays. 143 Northampton Street, Easton; 610-253-0940.
Rebecca Stephens opened this oasis in downtown Easton five years ago and offers a number of modalities from massage to reflexology to biofeedback to applied kinesthesiology, and more. The difference? The massage she specializes in is two hours, which she says you really need  in order to receive the full mind, body, and spirit experience. "I give the massage I would like to get," she says. 24 N. 2nd Street, Easton. Find her on Facebook or call 908-892-1910.
It's not surprising that a natural health and wellness center is based in Emmaus, the home of Rodale. For fifteen years, it's been the center for chiropractor Dr. Darin Mazepa, but a visit here is about much more than just getting an adjustment. He's a practitioner of Network Spinal Analysis, a blending of chiropractic, acupressure, craniosacral and other modalities, designed to stimulate the body's natural capacity to heal. You can also receive nutritional counseling, and endocrine testing, along with therapies involve herbs, music, and more. 134 Main Street, Emmaus; 610-965-0023.
What about you? What's your favorite place for health and wellness?
Carrie Havranek is a writer in Easton who believes yoga, farmers' markets, Reiki, and regular visits to her chiropractor help her stay well. Laughter helps, too.