by Kerri Jordan
This weekend, corks will be popping, and wine will be flowing and sampled by attendees at the Spring Wine and Food Festival hosted by the Bear Creek Mountain Resort in Macungie.
A few features were added to this year's  festivities, enabling the traditional one-day event to expand into a weekend wine and food extravaganza. A special four-course wine dinner kicks things off Friday 4/13, and the festival will begin Saturday with a grand tasting, concluding with the following day with a gourmet tasting.
"This year we geared the festival toward the hotel, making it a weekend event, hoping people would stay in our accommodations," says Gary Kline, events manager of Bear Creek Resort.
The first event, a sold-out four course wine dinner, pits Italy versus France. Exquisite wines from each country will be matched against each other and paired to complimentary dishes. Pairings include Lamberti Prosecco Veneto, Italy, with gaufrette potatoes with smoked trout salad and caviar; Roc De Chateauvieux Vouvray, with a seafood duo; and Domaine faiveley Mercurey with blackberry marinated duck with white grit soufflé and foie gras sauce. Terry Balent from Southern Wine and Spirits will host and explain the differences between—and among—these wines.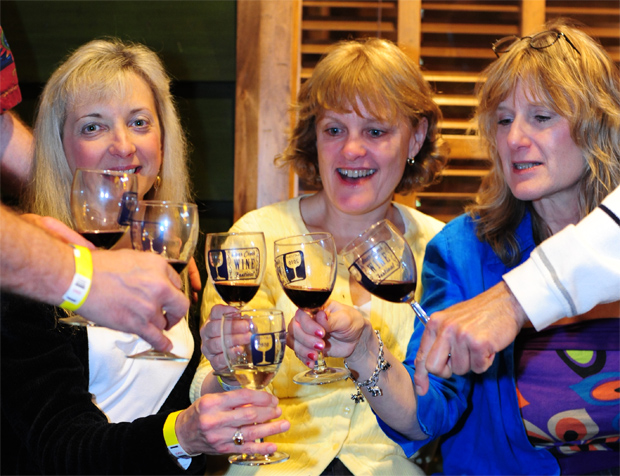 Seminars, wine tastings, food vendors, a pool side party and live entertainment are planned for the rest of the weekend. Saturday presents educational seminars on wine from 10am until 3:45pm, while the grand wine tasting commences from 1 to 5pm. Megan  Weir-Diehl, marketing coordinator, says people can sample from 18 Pennsylvania wineries and several vendors selling food and crafts while enjoying music from Jeff Umbehauer and 93 Turbo.
Following the tasting at 6pm is a leisurely pool-side port tasting accompanied by the vocals of Jim Meck. Four to five ports may be sampled, with chocolate, fruit or fig, to enhance the flavors of the wine.
Sunday's line up is similar with the exception of the pool-side tasting. Educational wine seminars will be held from 10am until 3:45pm, and a gourmet wine tasting will take place during the bulk of the afternoon, from 1 to 5pm. Enjoy live entertainment from Red in the Mountain Ballroom, and Steve Brosky and Jimmy Meyer in the Lodge during the event.  Some of the wineries guests can expect to taste from include: Antler Ridge Winery, Blue Mountain Vineyard and Cellars, Cherry Valley Vineyards, Franklin Hills Vineyard, Peace Valley Winery and Vynecrest Winery.
Guests may use a wine check list, which allows them to pick up bottles of their favorites at the end of festival. Just present your check slip to the attendant in the SnowSport School area of the resort. Participants of the festival will also receive a commemorative wine glass and an event program.
Friday's dinner is sold out; however tickets for Saturday and Sunday may be purchased online. Advance purchases for regular admission: $25 per person, per session, and includes afternoon seminars, and the gourmet or grand tasting. VIP admission: $40.00 per person, per session, which includes morning and afternoon seminars and gourmet or grand tasting. Poolside port tasting: $15; designated drivers are admitted for a mere $5 per person. Add $5.00 to ticket prices purchased at the resort. Bear Creek Mountain Resort, 101 Doe Mountain Lane, Macungie; 866/754-2822.
Kerri Jordan is a writer in Easton who enjoys discovering new local events to attend.