by Carrie Havranek
We can hardly contain our excitement around here. It's May. You know that means it's time for the farmers' markets to start up again. Here's our guide to those in the Lehigh Valley that are opening in the month of May. LLPG will do another installment to feature those opening next month. In the meantime, here's a preview of what's new at the markets this season.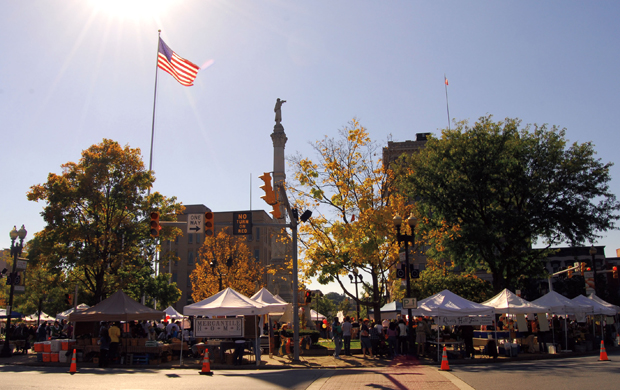 Easton Farmers Market begins its 260th market season by adding four new farms to its list of vendors, for a total of 45: Apple Ridge Farm, Blooming Glen, Primordia Mushroom Farm, and Scholl Orchards. According to market manager Megan McBride, they're especially excited about Primordia, as they've been trying to find a good mushroom vendor for a few years. The sidewalk area in front of the Crayola Factory is now being dubbed "Market Arts Plaza" and it's where local crafters, artisans and musicians will be set up. Look for Bacon Fest in the fall, a new "veggie valet" service that can help you get your goodies to your car, and special commemorative market bags designed by Mercantile Home. Saturdays, 9am-1pm, May 5-November 17; Centre Square, Easton.
Saucon Valley Farmers' Market, now entering its 7th season, will feature 30 vendors, including new additions Patience Spess, Apple Ridge Farms, Bechdolt's Orchard, Earth's Phocas, Epic Acre Farms, among others. You can find everything from fresh produce to handmade soaps and lotions, jams, jellies, maple syrup, olive oil, artisan bread, and even sauerkraut bread. This year, the market is having an art in the park event every fourth Sunday, starting May 27—they're seeking crafters and other folks who are creating handmade goods, says Shelley Goldberg, market chairperson. Sundays, 9am-1pm, May 6-November 18; Water Street Park, Hellertown.
A producer-only market, Emmaus Farmers' Market takes over the parking lot of the KNBT bank in Emmaus every Sunday, is entering its 10th season. New vendors this year include BAD (Beth and Dave) Farm, which specializes in cow's milk cheeses, and Balasia, which sells delicious vegetarian cuisine (salads, soups, bowls). Imagine everything from bison to wine to typical farmers' market fare: veggies, fruit, honey, maple syrup, baked goods, and more. On opening day, Chef Mike Joyce of Molinari's in Bethlehem will give a cooking demonstration using local produce. Sundays, 10am-2pm, May 6-November 18; 235 Main Street, Emmaus.
The Historic Bethlehem Farmers' Market is a new arrival to the scene this year. However, its Main Street location is so smart, it's kind of surprising it hasn't happened before now. Spearheaded by the Downtown Bethlehem Association to "enhance the quality of life in the Historic Moravian and Shopping District," says Samantha Schwartz of the DBA. Expect the likes of Apple Ridge Farms from Saylorsburg, Baba Nonna, which will offer Italian and Slovak baked goods, Back Door Bake Shop (endless source of cookies, brownies, dessert breads and more), Heritage Farm CSA, Stryker Farm, and more. Expect music throughout the season at the Sun Inn Courtyard stage. Tuesdays, 11am-3pm, May 8-October 23; Sun Inn Courtyard, 564 Main Street, Bethlehem.
Believe it or not, the Bethlehem Farmers' Market is now entering its 10th season on SouthSide Bethlehem. This year the market, which sets up at Campus Square on Lehigh University, has goods from 18 vendors. New additions include Earth's Phocas (cut flowers), Joe Paws Bakery (dog treats), veggie lunch tarts (Hereford Country Store) and M&B Fairview Farm (local meat), among others. You'll still find eggs from York Moor Farm, produce from Bechdolt Orchards and Lettuce Alone Farm, soaps from A Natural Alternative and, like most of these markets, live music every week. Thursdays, 11am-3pm, May 10-October 25; Morton and New Streets, Bethlehem.
Now in its second year, the St. Luke's SteelStacks Farmers' Market is back with fresh produce, baked goods, live music, smoked meats, gourmet coffee, grass-fed beef, estate-grown wines, vegan food (Balasia) and more. The "Growing Gourmets" series returns again this year for the last Thursday of every month, introducing kids to gardening and cooking. A new addition to the market include the peaches, plums, cherries, apples and pears from Frecon Farms. Opening day festivities will feature live music, a cooking demonstration, free evergreen seedlings to the first 100 customers, and a fair dose of community spirit. Thursdays 3pm-7pm, May 10-July 23, August 23-November 1; Air Products Town Square, 101 Founders Way, Bethlehem.
Carrie Havranek is a writer in Easton who loves the way people come out of hiding for farmers' markets.